3 questions for Stéphanie Selle, the PE&D Nepal Director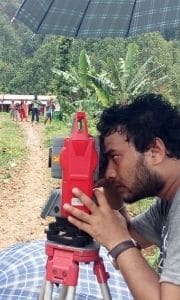 How is the construction of the boarding school for Chepang girls going?
With the strict lockdown that happened in Nepal, the architect only got to the piece of land in Gajuri – where the school will be built- in July. Thanks to this visit, he finalised his plans.
On the 7th September, we started a call for bids for builders. Despite the health situation and restrictions in force in the country, we hope that the production of units will start in November and that they will be assembled on site early 2021.
What will the hostel look like?
We are very satisfied with the architect's approach who put the wellbeing of the boarders at the heart of this project. The space has been designed in multiple building blocks positioned according to the sun. The dormitory is composed of five rooms that can house 6 people each. A kitchen, a dining room and a reading/conference room are available in two other blocks. In the centre of the estate, a sports field and a garden.
Prefabricated boards, solar panels, rainwater collection barrels, the project is respectful of the environment.
Earthquake-resistant, the buildings are secure and will be able to shelter the nearby population in case of a natural disaster.
Have the Chepang teenagers returned to school?
Unfortunately, not yet. Since July, the health situation is worsening. We are now observing 1,000 to 2,000 new cases per day. Schools have just started reopening in very random ways. Girls in boarding schools went back to their home villages in the spring. They are helping their parents with household chores: cooking, taking care of siblings and grandparents, getting wood… Our social workers are following these families and we have been able to help them financially. The girls remain motivated to go back to school as soon as possible.
We still need more than 40 000 euros for the project. If 1000 of you make a complementary donation of 40€, we will make it happen together.
Your donations finance all of Planète Enfants & Développement's activities, unless you specifically request otherwise.
October, 8th 2020