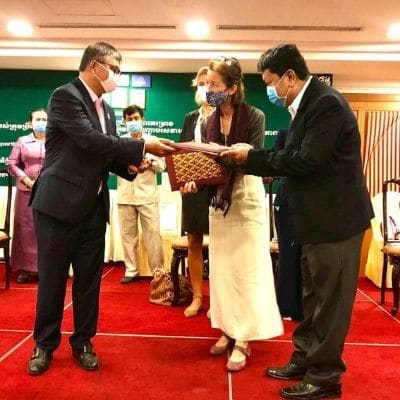 Our big project for the education of children in kindergarten in Cambodia has been going on since January 2020, but it was only on August 4th, delayed by Covid-19, that we were able to bring together all the stakeholders in Phnom Penh. Co-hosted by our partner in the implementation, the Bandos Komar association, this event allowed us to share our common challenges for the 2,300 children concerned by 2022.
Meeting and exchanging to work better together. This large-scale project, which supports 100 community nursery schools in 4 provinces of the country, involves many actors. Animated by the teams of Planète Enfants & Développement and Bandos Komar, the project launch event held at the Sunway Hotel in Phnom Penh on August 4th, aimed to bring together all the partners to establish a common understanding of the framework and reaffirm each one's commitment to the success of the project.
In accordance with the Cambodian government's prevention procedures and to guarantee the health of the participants as much as possible, the guest list was reduced and the room was specially fitted out to respect barrier gestures. However, the measures and masks did not hide the enthusiasm of the teams who, despite the health crisis, sought ways to work together from the very beginning of the project's implementation.
Special thanks for their participation in the ceremony:
His Excellency Dr. Hang Chuon Naron, Minister of Education, Youth and Sports (MoEYS) who declared the official opening of the project.
Mrs Camilla Lombard, First Secretary and Deputy Head of Cooperation of the Delegation of the European Union in Cambodia
Ms Anne Chapalain, Deputy Country Director of the French Development Agency (AFD)
H.E. Kim Sethany (MoEYS), H.E. Prak Sophorneary (Ministry of Health – MoH), Mr Min Sitha
(Ministry of Interior – MoI), Mr. Ieng Aun Touch (Ministry of Economy and Finance – MoEF) and Mr. Men Sambath (Ministry of Women's Affairs – MoWA)
The 4 Deputy Governors of the intervention provinces: Kampong Speu, Kampot, Pursat and Sihanoukville
Supported financially by the European Union and the French Development Agency, and implemented in collaboration with the local association Bandos Komar, the project will provide 2,300 children with quality schooling in 57 municipalities in the country.
The programme includes
financial support for the renovation and construction of community nursery schools,
pedagogical support for teachers
parent education workshops to encourage early childhood development and workshops to promote gender equality.
A project that will make it possible both to combat inequalities from a very young age and to promote the economic emancipation of women, which is currently complicated by the lack of childcare services in rural areas.
September, 23rd 2020