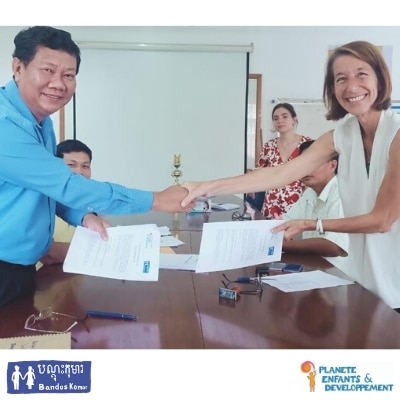 On the occasion of the signature of the Memorandum of Understanding between Planète Enfants & Développement and Bandos Komar, let's take a look back at this Cambodian association and the project that we will carry out together over the next three years.
Bandos Komar is an association specialized in early childhood development in Cambodia. It has been working there since 1989. Founded by the French association Partage, it became an independent local association in 1999.
We share the same values and the same ambition: to offer quality preschool education to each child and to strengthen the capacity of communities to improve the living conditions of families.
Who works there?
Mainly educators who work with schools, teachers and parents. Recognized in Cambodia, Bandos Komar chairs the National Network on Early Childhood Care and Development (NECCD) and is part of the Asia-Pacific Early Childhood Network (ARNEC).
What project will we collaborate on?
Together, we have set ourselves a great challenge for the next 3 years: to support 100 community preschools in 4 Cambodian provinces. The opportunity for 2,300 children to benefit from a quality preschool or early education. A necessity when in Cambodia, only 23% of children aged 3 to 6 are enrolled in preschool. This project is made possible with the financial support of the European Union and the French Development Agency.
We will tell you more very soon! In the meantime, discover the fact sheet of the project.
In the foreground on the picture :
Mr. Sothirak Sok, Executive Director of Bandos Komar, and Mrs. Nathalie Dupont, Cambodia Director of Planète Enfants & Développement, during the signing of the Memorandum of Understanding between the two organizations.
24 July 2020