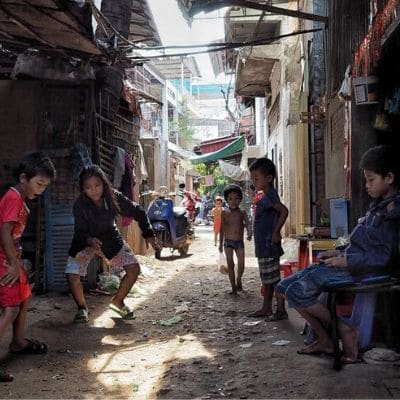 Episode 2/4: Cambodia
While the health situation seems to have stabilized in Cambodia in recent weeks, a relaxation of the population in relation to barrier gestures is visible, especially among the poorest who no longer wear the mask due to lack of means. The consequences of the crisis are strongly felt by the families we follow. For them, the crisis is above all economic.
Raising awareness of barrier gestures in textile factories
18,000 female workers in Kampong Speu province are suffering the full impact of Covid-19, with a substantial drop in their income, often the only stable source of income for their families. Not to mention unfair dismissals and harassment at work.
These female workers are particularly exposed to the virus since they work 6/7 days and 12 hours a day, confined in large sheds with more than 1000 workers.
Since March, our Cambodian team has been mobilized to offer awareness sessions on barrier gestures in 6 factories in the province of Kampong Speu. Thanks to the mobilization of female "health ambassadors", who relayed health information to their colleagues, 3,300 workers were advised on the right gestures to adopt. Hand washing stations were also set up in the factories to limit the spread of the virus.
Awareness-raising and hygiene kits in disadvantaged neighborhoods
In the slums of Phnom Penh, where water is scarce and crowded, families are particularly at risk. We therefore went to the 14 precarious neighbourhoods where we are already working to raise awareness among the 17,000 inhabitants of the barriers to be respected with the help of prevention posters. We also distributed hygiene kits to 373 families.
Financial assistance to the most disadvantaged families
With our Cambodian partner SKO, we distributed an initial financial aid of $15 to 373 families from these 14 precarious neighbourhoods. We took the opportunity to organize a quick survey that reveals the major economic impact of the crisis on these families. Indeed, 28% of them testify that they have lost their jobs and 47% of them don't have enough money to pay the rent at the end of the month. Finally, all of the families surveyed have seen their income seriously diminish and now lack money for basic necessities.
→ To go further and respond to the emergency for these families, we would like to :
distribute to the workers and their families reusable masks made in the Cambodian workshops ($1.5 per unit in Krama fabric) and monthly packs of essential products (food, hygiene) worth $15.
set up hand-washing points for the inhabitants of the 14 precarious neighbourhoods of Phnom Penh that we monitor
distribute games and toys in these neighbourhoods to promote the well-being of children during this crisis
pay more allowances to the poorest families paralysed by the crisis.
To support them, make a donation. Thank you!
Learn more
Our article "Covid-19: what about the countries in which we operate ?"
Our article "How does Covid-19 affect the most vulnerable ?"
May 20th, 2020