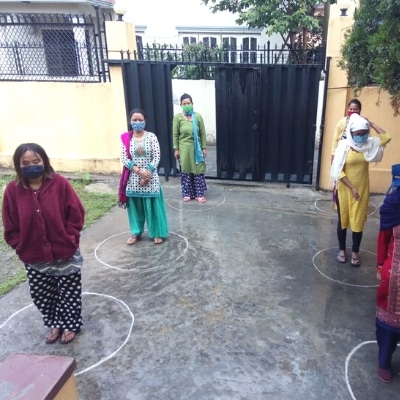 Episode 1/4: Nepal
At a time when the Nepalese government has just extended the confinement – installed since 24 March – until 2 June, the economic and social situation is confirmed to be very critical for the poorest and particularly for the women we follow in Kathmandu. An overview of our activities in Nepal to support them.
Thanks to the first donations we recently received from our generous donors, we are launching the distribution of a 30 euro allowance to 175 women in Kathmandu. "These are women who are often alone with their children, exploited in the so-called "leisure sector", which we are monitoring as part of our Protection and Empowerment project. But they are also women whom we have accompanied in the past and who are currently fighting for a new life," explains Stéphanie Selle, Director of the association in Nepal.
Translation of radio spots into local languages
From March 31st, prevention messages created by our team in Nepal and produced by our local partners were broadcast on the radio in 3 local languages in 5 districts: Dhading, Gorkha, Chitwan, Makwampur, Sindupalchowk.
The objective: to raise awareness of barrier gestures among populations forgotten by the State, and in particular families and children of the Chepang ethnic group, who were previously cut off from the national prevention campaign by the language barrier. Specific radio messages are addressed to children.
Provision of an online Preschool Toolkit (BOP)
With our partner Child Nepal, we have adapted the Burkinabe BOP to offer a Nepalese Preschool Toolkit on Facebook. Online since mid-April, it offers parents resources to help their children understand the pandemic we are going through. The Facebook page will then offer many free online resources to awaken their toddlers and allow them to learn through play.
Follow-up with recipients by phone
Since the beginning of April, we have adapted our monitoring of the 250 women in Dhading and Kathmandu, by phone and SMS. These women who are already exposed to violence and have little education must be particularly listened to, guided and protected in this period of distress where confinement exacerbates violent behaviour.
→ Thank you to all our donors without whom these first actions would not have been possible. Faced with the magnitude of the crisis, we would like to do more and be able to distribute food vouchers to 130 families in the Paurakhi Basti slum in Kathmandu. Every gesture from you will make a difference, thank you!
Learn more
Our article "Covid-19: what about the countries in which we operate ?"
Our article "How does Covid-19 affect the most vulnerable ?"
May 19th, 2020