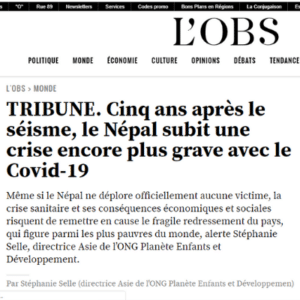 On April 25, 2015, an earthquake and its aftershocks affected 8 million inhabitants in Nepal and killed over 9000. Ironically, these earthquakes sped up the political and social transformation of the country. But Covid-19 is bringing the Nepalese economy to a worrying stop.
Although the earthquake had dramatically deteriorated the living conditions of the Nepalese, it nevertheless sent shockwaves to the political class.  After 7 years of debates, Nepal adopted a new constitution on September 20, 2015. Even though it needed time to be implemented, including numerous discussions, it started a progressive movement, which is better for women, ethnic and gender minorities and the low castes. Legal recognition of rights will have to be implemented now. 
Stéphanie Selle, Planète Enfants & Développement Director in Nepal, analyzes the situation in an editorial published in the French newspaper "Nouvel Obs" (see picture) :
« The unprecedented mobilization of funds due to the earthquake made it possible to go beyond emergency assistance. But the social and economic situation of the country remains unstable. 
The majority of the population relies on self-sustainability, on daily paid odd jobs and money transfers sent by the Nepalese diaspora across the world. The country is extremely dependent on imports from India and China as well as from tourism. In 2015, the earthquake affected the country at the end of the tourist season, but Covid-19 appeared at the beginning of the season. All trekking permits on the Everest have been cancelled, and the country has restricted the delivery of visas. Covid-19 may bring a fatal blow to the transformation ».
> Read the full article on L'Obs website (in French).
25th April 2020