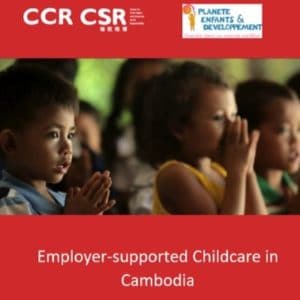 From June to August 2019, Planète Enfants & Développement and its partner the Center for Child Rights and Corporate Social Responsibility (CCR-CSR) supervised a study on 69 employers from different economic sectors in Cambodia looking at the childcare services offered. The study has been presented in front of the International Finance Corporation (a World Bank department) in July 2019.
A summary of the report
In Cambodia, women endorse a disproportionate burden of unpaid work at home, including childcare. And this is a brake for their economic empowerment. Indeed, it is harder for them to pursue career progression opportunities. Employers are aware that absenteeism is often related to children.
In Cambodia, employer-supported childcare is a legal duty for firms gathering more than 100 employees. However, 72% of employeers don't abide by the law. Yet, for 91% of the firms, workers have children under 6.
Therefore, the study reveals that legal obligations are little know and little applied. And chilcare needs for parents are not covered.
Improving access to childcare services is a priority for the IFC because it is a win-win situation for employers, employees and the economy.
Another part of the study focuses on the current supply of childcare options. 43 daycare centers have been surveyed in 6 Cambodian provinces. The study had 4 concerns : accessibility, availibility, quality and affordability of childcare services. Results show strong discrimination : there are mostly private and therefore expensive daycare centers aimed at the middle or wealthy classes. And none of them has a partnership with a firm and its employees.
Conclusion 
Based on these findings, some recommandations where made to employers and the Cambodian government, which could play the role of a regulator and a service provider. Innovative finance models with incentives to employers and employees could be settled. Partnership between the public and private sector could yield sustainable results.