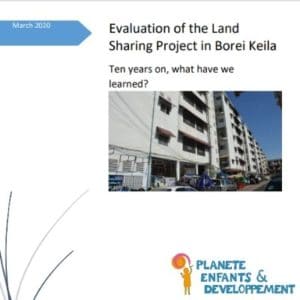 In March 2020, our team in charge of the Family Support and Habitat (Hali) project in Cambodia, carried out a study among families from the precarious Borei Keila district in Phnom Penh who were rehoused by the State in social housing. Its objective : analysing the changes in the living conditions of these families and making recommendations to the local authorities to solve the housing crisis in Phnom Penh.  
A summary of the report 
The survey analyzed the living conditions of 96 families living in Borei Keila, the only social housing site created by the government in Phnom Penh. These 96 families account for 7% of all the occupants of the new buildings. The study randomly selected 2 families per floor per building to provide a representative sample of 96 families. Between 2007 and 2012, 1344 apartments were built and offered to the most precarious families in Borei Keila.
A few figures 
80% of the families surveyed believe that their living conditions have improved.
85% consider that their housing is less subject to natural risks than before (floods, fires, strong winds…)
79% of the inhabitants feel that their financial situation has improved.
However, 77% of the inhabitants questioned stressed the efforts to be made in terms of waste management, 

74%

 on cleanliness and 55% on safety.
Conclusion
We are encouraging this type of state-led project in Phnom Penh by making sure to improve project monitoring and the involvement of the inhabitants in particular. Urban poverty is a huge challenge in Cambodia.
The quality of the living environment has an impact on the family as a whole, but also and above all on children, who grow up better in a healthy and protective environment.