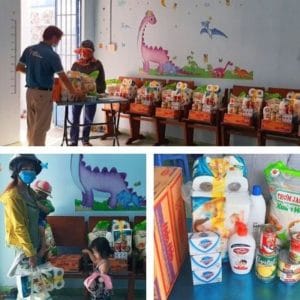 Following the confinement measures imposed to curb the epidemic, numerous Vietnamese citizens have lost their job or seen their income decrease. Our team in Vietnam has reorganized its activities to accompany at best vulnerable families in Ho Chi Minh City during these hard times. 
We have decided to join forces with the TFCF NGO in Vietnam in order to distribute food kits to 30 vulnerable families on April 9th in 9 and Than Pu Districts. 
A kit composed of essential products was distributed to them to cope with the epidemic: rice, noodles, canned meat and fish, corn kernels but also soap, hydroalcoholic gel, toilet paper and bleach. 
In order to respect the recommended measures of social distancing, each family came in turn to collect its kit from the social centre. 
Health consequences, but also…
In addition to the major health aspect, the coronavirus crisis is already having serious economic consequences, which are particularly felt by the most vulnerable. Indeed, the containment measures imposed to curb the epidemic have led to the closure of many businesses. As a result, some Vietnamese have lost their jobs, while others have seen their income decline. This is a hard blow for the more vulnerable families we have been following for many years in disadvantaged neighbourhoods of Ho Chi Minh City. 
To go further :
Read our article on the Covid-19 consequences for the most vulnerable. 
April 13th 2020