Childcare for female textile workers is still a major concern in Cambodia. Following nurseries installation tests, we are adapting the project to meet their needs and launching the construction of 22 community nurseries in villages with our local partner Krousar Yoeung.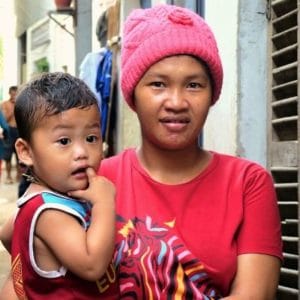 A daycare center model involving villages and factories
22 new daycare centers will be built by 2023 in the villages of the Kompong Speu province in order to tackle the issue of childcare for female textile workers in Cambodia. 
Each daycare center will be able to welcome 25 children from 6 to 36 months. Buildings will meet environmental and sanitary standards in order to offer toddlers an environment conducive to their development. Eventually, factories will cover part of the registration cost for daycare center, making it more accessible to female textile workers. 
With this project, in partnership with Krousar Yoeung and the World Bank, we have devised a model of community nursery. We are indeed convinced that the participation of villagers is essential to the viability of the project. That is why we will consult with the workers, the families, but also the local and national authorities.
Daycare centers will be built next to the living and working places of female workers. But they won't be the only one to benefit from the project. Indeed, the whole community will benefit from it because we also plan to implement awareness workshops to remind the importance of early childhood development, of healthy nutrition for toddlers and to fight against gender based and educative violences. The workshops will be free and open to all. 
Qualitative and affordable childcare facilities 
In Cambodia, only 21% of children under 3 are welcomed in facilities run by early childhood professionals. Most of the toddlers whom both parents are working are looked after by their grandparents, overwhelmed by the notions of childhood development. 
Our daycare centers will provide qualitative and affordable services. 
An economic emancipation opportunity for women
Cambodian law makes it compulsory for factories of more than 100 employees to offer childcare services. However, today, 72% of the factories don't abide by the law. This has an impact on women economic activity because they are forced to resign; but it also impacts the family circle as a whole because most of the time, toddlers are entrusted to the grand-parents. 
Make childcare facilities available to women is allowing them to empower themselves while they still provide 75% of unpaid domestic work. This daycare center project will allow garment female workers in Cambodia to find a better work-life balance. 
Going further :
→ Interview of Nathalie Dupont, Cambodia Country Director for Planète Enfants & Développement (May 2019). 
March 31th 2020