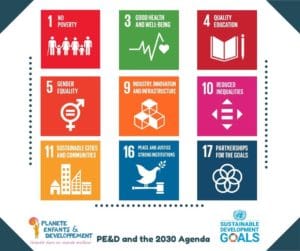 In 2015, 193 member States agreed on 17 Sustainable Development Goals (SDG) by 2030. Goals focused on Earth and people as well as prosperity and peace. Find out about the 9 SDGs Planète Enfants & Développement is working on. 
SDG n°1 : End poverty in all its forms everywhere
In Nepal, Cambodia, Vietnam and Burkina Faso, 4 of the world's poorest countries, we act in favour of the most precarious communities in order to improve their living conditions and offer their children the opportunity of a better future. 
SDG n°3 : Ensure healthy lives and promote well-being for all at all ages
Fulfilment and well-being of children is the heart of our mission. On the field, we act with social workers in order to offer the most vulnerable an access to medical care. 
In Cambodia, we have trained nurses in order to allow female textile workers to benefit from medical consultations within the factories. 
In Burkina Faso and Nepal, we have launched playful devices to foster children washing regularly their hands. 
SDG n°4 : Ensure inclusive and equitable quality education and promote lifelong learning opportunities for all
One of our priorities is early childhood development. As a result, we foster the construction of childcare facilities for children under 6 : daycare centers as well as preschools and the training of early childhood educators.
In Burkina Faso, we are creating the profession of child minder with the State in order to foster the stimulation of children before the age of 6. To ensure equal opportunities for all, we also have implemented a training for vulnerable Vietnamese teenagers in order to foster their socio-professional integration. 
SDG n°5 : Achieve gender equality and empower all women and girls
Women rights are one of our main concerns because we work in patriarchal societies. Many of our projects favour women empowerment. 
In Nepal for instance, we act with women suffering sexual exploitation and we work to foster education access for young Chepang girls, one of the most marginalized community in the country. 
In Cambodia, our programs fighting against gender based violence allow every member of the family to discuss the distribution of domestic chores and receive financial literacy lessons. 
SDG n° 8 : Promote inclusive and sustainable economic growth, full and productive employment and decent work for all
We belong to athe French collective called "Ensemble contre la traite des êtres humains" (Together against human trafficking) fighting against forced child labour as well as sexual exploitation. 
This is for instance one of our priorities in Nepal, where young girls are particularly exposed to the risks of sexual exploitation. 
In Vietnam, "Là Nails", our vocational training center specialized in aesthetics allow vulnerable women to train and to get a job. 
SDG n°10 : Reduce inequality within and among countries
Our ambition : equal opportunities for every child. In each one of the 4 countries we are working in, our programs are oriented towards the most marginalized populations and aim at improving their living conditions. 
SDG n°11 : Make cities and human settlements inclusive, safe, resilient and sustainable
For many years now, within the framework of our family support program, we implement activities fighting against substandard housing and neighbourhoods. 
In Cambodia, our social workers accompany families in Phnom Penh slums and help them in their renovation projects. We also work with populations so that they bring the development needs of the neighbourhood to the authorities (need for sanitation systems, drainage…). 
SDG n°16 : Provide access to justice for all and build effective, accountable and inclusive institutions at all levels
We are involved in the fight against every form of violence, especially towards children. By the way, we belong to a collective called the "Groupe Enfance" (Children's Group) which gathers 18 NGOs working for the respect of children rights in the world. 
As far as inclusive institutions are concerned : for instance, we are currently working with the State for the civil status modernization in Burkina Faso in order to foster birth registration and to fight against the "ghost children" phenomenon. 
Finally, in Nepal, following the 2015 earthquake, we took part in school reconstruction and implemented awareness sessions on natural risks. 
SDG n°17 : Strengthen the means of implementation and revitalize the Global Partnership for Sustainable Development
On the field, our programs are systematically implemented in partnership with local organizations or authorities in order to promote long-term impact. Our local partners offer a better knowledge of the populations' needs, necessary to the implementation of tailored programs. We also attach great importance to local ownership of projects. Indeed, in Burkina Faso and Cambodia, dozens and dozens of town halls have already taken over the management of the preschools we had set up. 
On the field, we also work with other international NGOs focused on the same issues. In Vietnam for instance, we have settled a partnership with BATIK International in order to foster gender equality. An occasion to exchange knowledge and competencies on gender based violence. 
March 12th 2020