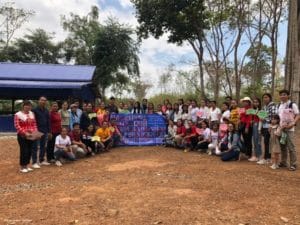 On the occasion of the "Peer Education Day" celebrated on February 23rd by our team in Cambodia, find out the results of our project on maternal and reproductive health for female textile workers. 
The Cambodian team of Planète Enfants & Développement gathered 75 participants on February 23rd to celebrate the Peer Education Day and close the first part of our Enterprise-Based Social Services project (EBSS) relative to maternal and reproductive and health. An opportunity to celebrate the work done with female workers-educators and to make sure they will follow activities in their factories. 
Within 3 years, 6 factories and 9800 Cambodian female textile workers have benefited from this project which aims to improve their health and children care.
Our project in figures :
 

61 female peer-educators

have been trained to medical advice and will lead peer awareness sessions every week. 

6 infirmaries

have been brought up to standards. 

362 pregnant workers

have been able to attend awareness sessions about contraception and hygiene and nutrition rules for their new-born babies.
The second part of the project which is dedicated to the childcare for female workers will go on the next three years. 22 daycare centers will be built in the villages where they live. 
March 10th 2020