In partnership with the World Bank, for the account of the Government of Japan and funded by Japan Social Development Fund, Planète Enfants & Développement will launch a new project in Cambodia. The objective : provide quality cares to very young children during garment workdays.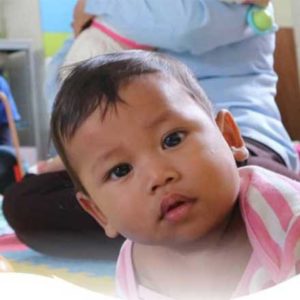 The Project intends to experiment new models to provide sustainable, affordable, safe and qualitychildcare services for very young children of garment factory workers, partly financed by theiremployers in accordance with the Cambodian Labor Law. The Project will help the garment factoryworkers to strive for a better balance between their private and professional lives, while improvingchild development. It will also allow family members who are traditionally taking care of young children to save time for other personal or economic activities.
In this view, 22 Childcare Centers will be built in communities, closed to garment factory workers and their families' homeplace. These Community-Based Childcare Centers will provide asafe, healthy and stimulating environment to welcome very young children (06-36 months) during workdays, and ensuring their right physical, psychological and cognitive development.
Centers will be managed by trained professional staff, under the supervision of PE&D Project Team. Centers will be economically sustainable, thanks to funding from garment factories which are partnering with the Project, and fees payed each month by the parents.
Whereas the Childcare services will be accessible only to employees of garment factories partnering with the Project, all community members will benefit from the establishment in their commune, as parenting education training and sensitization programs will be delivered in the CBCCs and fully accessible for all.
The project will start in 2020 for 4 years.
> Learn more about the project (PDF version in English)
> Discover the Environmental and Social Commitment Plan (PDF version in English)
> Community – based childcare center project – Construction guidelines

November 2019