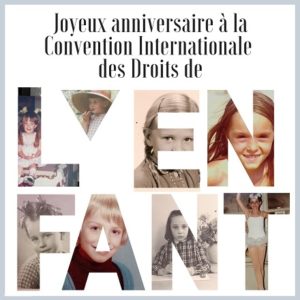 On November 20th 2019, the Convention on the Rights of the Child celebrates its 30 years. On this occasion, Planète Enfants & Développement whishes to reiterate its commitment to the defence of children's rights, review the progress since its signature and reiterate its commitment to the Children's Group. 
The defence of children's rights, at the heart of our action
As reminded by the Rights' Defender Geneviève Avenard, these rights have to cross borders and cultural differences. They are "duties of adults and of our societies so that everyone grows up freer, better educated, healthy and fully respected".
Every project led by Planète Enfants & Développement since its creation are part of a process of building a society in which children are protected from all forms of violence and exploitation, have access to education and health and develop fully within their families and communities.
Since the signature of the Convention on the Rights of the Child and thanks to the combined work of civil society organizations and field actors, many advances have been made.
Significant advances in child protection
Under the impetus of the Convention, most of the world's States have gradually adopted a genuine body of legislation for the protection of children.
These national laws have provided a framework for the implementation of plans of action in many areas: access to health care and education, protection against violence, juvenile justice, etc.
Above all, it has enabled the development of a genuine culture of children's rights.
Indeed, before the Convention, no distinction was made between the rights applicable to children and those applicable to adults. This is no longer the case today. In many countries, independent child protection institutions had been set up and specific provisions were being made in the best interests of the child.
However, the goals of the Convention on the Rights of the Child are still far from being achieved and many challenges remain to be met: 12 million girls a year marry before the age of 18, almost 4 million refugee children are not allowed to go to school…
Planète Enfants & Développement calls for taking full measure of this.
Because all children must have the same opportunities to grow up in a better world, because without respect for human rights and children's rights, there is no equal opportunities, Planète Enfants & Développement works every day alongside populations to advance these rights in the areas of the fight against violence, education and health.
Alongside the Enfance Group, we will mobilize on December 10th during a round table to take stock of the situation and make recommendations.
November 20th 2019