On the 2nd of November 2018, BiiBop won the Lafi-Bala Prize at its 15th edition of the Ouagadougou International Crafts Fair (SIAO) for its networking with Burkinabé craftsmen, its innovative character, its social mission, and its collaboration with the Zoodo Association for the Promotion of Women (AZPF). This prize allowed Rosine Kiema, representative of BiiBop, to come to present the toys and educational materials in France during the Lafi Bala Festival of Chambery from the 28th till the 30th of June. Rosine Kiema speaks to us about BiiBop.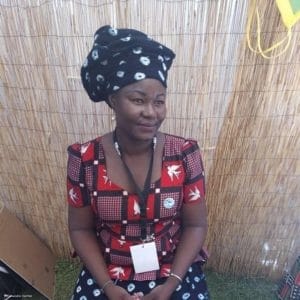 Games are, however, one of the best methods to guide children in their development and to put them in favorable learning conditions. They allow children to imagine, share, decide, reflect, observe, invent, organize, compare, look, plan, touch.
Each stage, from the concept to the manufacturing of BiiBop games and toys, is well thought-out to have a positive impact on the local socio-economic web and the environment. From crocheted doll's tea set, to memory games made with loincloth, through these games of construction, BiiBop offers a range of diversified toys adapted to the stage of awakening of each children.
All BiiBop products are manufactured with local materials. Ten craftsmen, carpenters, painters, dress designers, and weavers work on their production. While ensuring its financial viability, BiiBop's profits will be reinvested to pursue its social mission, to develop the capacities of children at their youngest age and create conditions for their achievements.
During her time in France, Rosine Kiema had the chance to visit two nurseries and a primary school of Chambéry to discuss education and to test the games with the children. On Sunday, she also participated in a "talk" on the theme of education in Burkina Faso: a good way to present the context of preschool in Burkina Faso and the importance to invest in the development of the youngest ones for their future.
Other news:
Since 1996, every two years, the city of Chambéry offers a festival dedicated to Burkina Faso in collaboration with the Chambéry Ouahigouya Association
July 2019