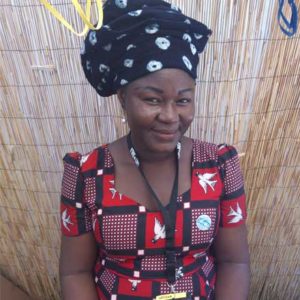 How is the young brand of BiiBop educational material doing?
Our social enterprise was founded last May and a dozen kindergartens of Ouagadougou already trust us. The demand accelerated, it's motivating. Children and also parents and Early Childhood professionals are very welcoming of our products.
Who is currently working on the games and toys?
BiiBop is a brand 100% Burkinabé. Five local craftsmen work in our workshop in the Pissy district in Ouagadougou: a carpenter, a painter, two dress designers, and a draftsman/cutter of calabash. We also collaborate with Kogl Zakaa, a collective of five women who make crocheted tea sets, and with the Zoodo Association for the Advancement of Women which manufactures Faso dan fani fabrics.
What are the next steps for BiiBop?
To improve the quality of our 24 products, of course, and standardize the production according to our manufacturing charter. We also wish to design a new collection in 2020. As soon as possible, we will lower our sales price for schools, so that a maximum among them can offer quality educational material to the children. Today, BiiBop meets schools, professionals, families in the show-room, during ephemeral sales or event in Ouagadougou. Tomorrow, we want to develop more largely in the country!
BiiBop develops and sells a brand of educational materials and toys for the future of children less than six years old in Burkina Faso. BiiBop offers to kindergartens and families to have, at an accessible price, quality educational materials to encourage learning through games. This social and solidarity-based enterprise supports early childhood professionals in their work, contributes to the improvement of educational practices, and works to promote equality between girls and boys.
October 2019