"Mothers are forced to quit… or worse, leave their children alone at home."
One solution, nurseries in factories in Cambodia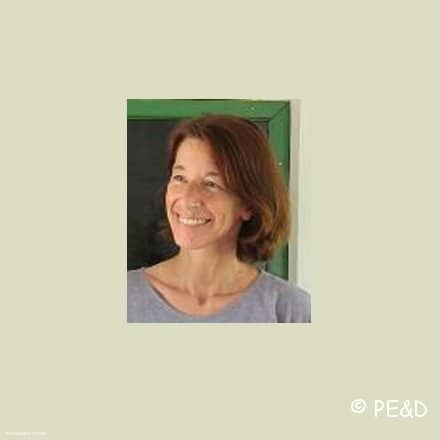 Nathalie Dupont, the Planète Enfants & Développement Director of Cambodia, explains how industrialization has disrupted the lives of Cambodian families, the dramatic consequences for many infants, and her work to support the state in finding solutions, through the use of nurseries in textile factories. 
What types of children guards are there in Cambodia? 
The current situation is complicated: the demand for children guards exploded with the massive upsurge of women in the formal labor market. However, the families do not have the means to pay for rare private nurseries. A textile worker should pay anywhere from 70 to 100% of their monthly salary. There also aren't any public nurseries in Cambodia. Not many solutions are offered to the mothers: trusting their children to grandparents, who are often illiterate with fragile physical and psychological health, quitting their jobs, or worse, leaving the children alone during the day. It is common for children to suffer from malnutrition and care, not to mention the lack of stimulation. This situation is unbearable. Cambodian law imposes daycare centers in factories with more than 100 employees, but they are rarely implemented according to specific state directives. When they exist, they are managed by unqualified factory employees. 
Why is the state of Cambodia turning towards Planète Enfants & Développement to develop nurseries within the companies?
We have been in Cambodia since 1984 and we have developed the current state primary school model. The state naturally turned toward us to support the implementation of a model for nurseries in factories. We have worked with the Ministries of Labor, Education, Health, and Social Affairs to develop the first training guides for caregivers and a general framework for the nurseries in the factories. 
Planète Enfants & Développement recently signed their first partnership with the Trax Apparel enterprise, supplier of major brands like Adidas, Puma, and others, to support the opening of nurseries in the factories. What does this support consist of? 
Through this pilot project, Planète Enfants & Développement, wants to help break the cycle of poverty: mothers will be allowed to keep their jobs while ensuring that their children under 3 years of age are adequately taken care of. This support will provide suitable conditions for the awakening, development, and protection of 60 children. 
With the technical and financial contributions from our partner, People and Baby, we will renovate the existing premises, equip the nursery with adapted teaching material, recruit educators and caregivers through human resources, train them, advise them, and evaluate the project throughout one year. The Trax Apparel nursery will open in July 2019. 
This pilot project will test a model to be implemented. 4 other nurseries run by companies should also open within them or nearby. One multi-enterprise nursery will also be tested. 
May 14, 2019