Thursday, March 8 is the international women's day.
In the countries we work with, we fight against all forms of discrimination, especially those affecting women. Many women, often affected by extreme poverty, are deprived of their rights to education, income and sexual and reproductive health care. There is still more to be done for women's empowerment and protection.
Today, we share with you the story of 4 women who have benefited from our projects: socio-economic inclusion, health care, protection against violence ect.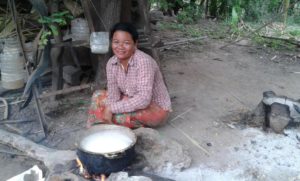 Min Song, beneficiary of the Fight against Violence project for women in Cambodia.
"In the 20 years of marriage, I was never happy. My husband was alcoholic and aggressive. After the birth of our first child, he became violent. He insulted and hit me. It was real torture. Later, I got to know PE&D. Group meetings and their company helped me verbalize my emotions, find confidence, and find the strength to oppose my husband. "
Joti Rai, beneficiary of the Fight against Sexual Exploitation project in Nepal
"After being a house maid, I was employed at a restaurant as a server. I wanted to earn more money but I was underpaid. The clients were very aggressive with me. They asked me for sexual services and my boss forced me to do it. I wanted to leave but what else can I do afterwards? It was then that PE&D helped me gain other professional skills. Today I work as a security guard, with a real salary and I feel much safer."
Sakinata, beneficiary of the Family Development project in Burkina Faso.
"I became a mom at 15, and left my violent husband to come to Ouagadougou. I found myself in the streets, begging, with my children, so that we could have something to eat. I had no house and no job. A friend told me about PE&D and their personalized services. Following their advice, I was able to start a laundry service. Today, I have a place to stay and my children are better fed. I am confident for my future and theirs."
Lê Thi Nhi, beneficiary of Professional Integration project in Vietnam.
"At the end of my school years, I did not know how to find a job. I didn't have confidence and felt incapable to earn my own life. PE&D helped me define my professional trajectory. They showed me my points of strengths. I attended block release training thanks to PE&D's scholarship. Today I am employed at Oréal, a job that I enjoy a lot. I am financially independent and I can even help my parents pay for my little brother's tuitions."