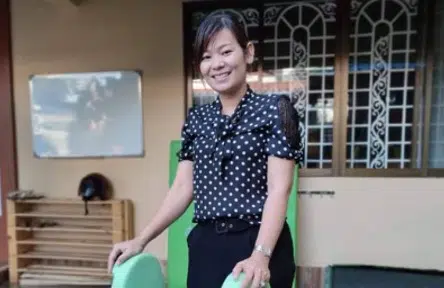 Sophal Sambath has been part of our team in Cambodia for 1 year. She is supervising the creation of 22 crèches for the children of women workers in textile factories. Despite the delays linked to the Covid-19 crisis, Sophal remains determined. The first constructions should start soon.
Tell us a little about yourself?
I am Sophal Sambath. With a midwifery degree in hand, I started my career in international NGOs working on nutrition and maternal and child health issues. Outside of work, I enjoy sharing my passion for cooking and sometimes shopping.
What is your role at PE&D?
I have been working for PE&D for almost a year on a project to create day care centers in villages (CBCC). The key to the success of this project is the participation of all parties involved in finding sites where to build the day care centers, ensuring their financing over the long term, convincing companies to take charge of part of the day care costs of their employees... I am a kind of conductor. My role is to bring together and ensure negotiations with communities, local councils and garment factories. I organize the formation of advisory committees composed of mayors, teachers, police, health personnel, in charge of carrying out and monitoring the activities. I am also in charge of recruiting and training the educators for the crèche.
Why did you choose this job? What motivates you on a daily basis?
My motivation: to offer Cambodian toddlers quality care, to help them grow up in better conditions. CBCC is the first pilot project in Cambodia to set up a childcare solution close to the employees' home, which adapts to the parents' schedule and benefits from a financial contribution from the factories. What also motivates me is that my missions tend to reduce gender inequalities by allowing women to have a recognized and paid job.