For 38 years, Planète Enfants & Développement's goal has been to help children grow up in an environment that is conducive to their well-being and development. Accompanying mothers and fathers in their parenthood is therefore a priority. Today, the association is pursuing this commitment by giving a voice to parents throughout France, with the launch of its "Becoming Parents" project. The first of a series of discussion groups is scheduled for October 10 with parents attending the Saint Honoré training center in Paris.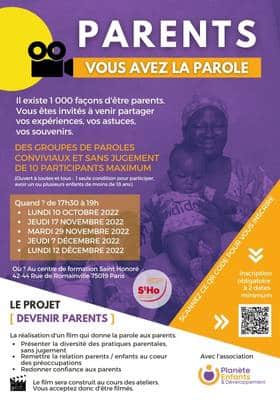 "There are 1,000 ways to be and to become parents. You are invited to come and share your experiences, your tips, your memories". Between October 10 and December 12, a professional from the Early Childhood sector will lead 5 discussion groups in the Saint Honoré training center in Paris, which trains future educators of young children.
"I work too much, I don't have enough time for my children", "I am given the impression that I am not educating my children well": the main objectives of our project are to give back confidence to parents and to show that there is not only one way to be a parent.
Other workshops are planned between now and mid-January 2023 with families who attend the Sol en Si association. And we are also in discussion with 3 other organizations very interested in the project.
Because the Devenir Parents project goes beyond the discussion groups that we want to organize with parents from all walks of life. We are going to film part of the workshops to produce a film that will gather the testimonies of volunteer parents, that will put multiculturalism and the diversity of parenthood in the spotlight, so that it can be widely distributed in places frequented by parents and on the Internet.